Microsoft's Building the Future Conference explored new ways of work
Flexible Work has been integrated in many companies worldwide, especially since the Covid-19 Pandemic took the lead in our lives. There is an increasing feeling amongst professionals from different sectors that this way of working is here for the long run.

At Microsoft's Building the Future Online Conference, many speakers confirmed these expectations by presenting new studies that show workers want a new way of managing their work-life balance: hybrid work. This means each of them can choose individually what works best for them, in a flexible and more independent way. Will companies follow and allow this trend amongst their employees? How will this be made possible?
Microsoft's Work Trends Index
Jared Spataro, Corporate Vice-President at Microsoft 365, started his intervention in the "Empowering Everyone for a New World of Work" talk, at Building the Future, by saying that we are living an historic once-in-a-generation moment, by rewiring the economy and redefining the patterns of work. The big question for him is "What will the next decade of work look like?".

To try and answer it, Microsoft conducted a survey that connected over 30.000 people in 31 countries – the Work Trends Index. Here are some of the major takeaways regarding people's experiences with remote or hybrid work:
73% of people hope that flexible remote options will continue after pandemic;
67% of people recognize they need and want more in-person face-to-face collaboration.
This is what is called the hybrid paradox: people want the best of both worlds.
"This led us to the conclusion that no one-size fits all. People want to be able to embrace these new patterns of work, but they all have different circumstances", Jared explained to the audience.
This Microsoft study also showed the real length of a global phenomenon called The Great Reshuffle:
41% of people said they are expecting to leave their current employer within the next 12 months;
46% of people said they are planning a major career shift;
48% of people also admitted they are planning to move house.
"We see this referred to as The Great Resignation, but from our perspective is more about people rethinking the «why» of work, «where» they work and «how» work fits into their lives, into their integrated whole", Jared concluded.
This leads to the Microsoft's Hybrid Work Matrix, revealing that companies will have to invest to bridge the two work modes: working together in a synchronous way and working alone on their own terms and time, in an asynchronous manner.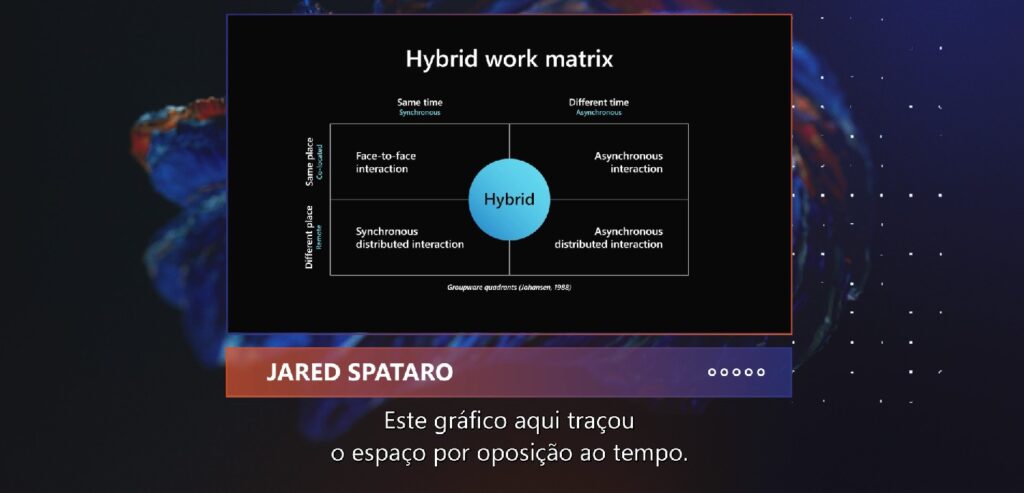 Technology is here to help
"To thrive in this new world, every organization needs a Digital Fabric to bind it together with secure communication, collaboration and creation. This Digital Fabric enables flexibility and strengthens connections between people and teams", Jared clarified.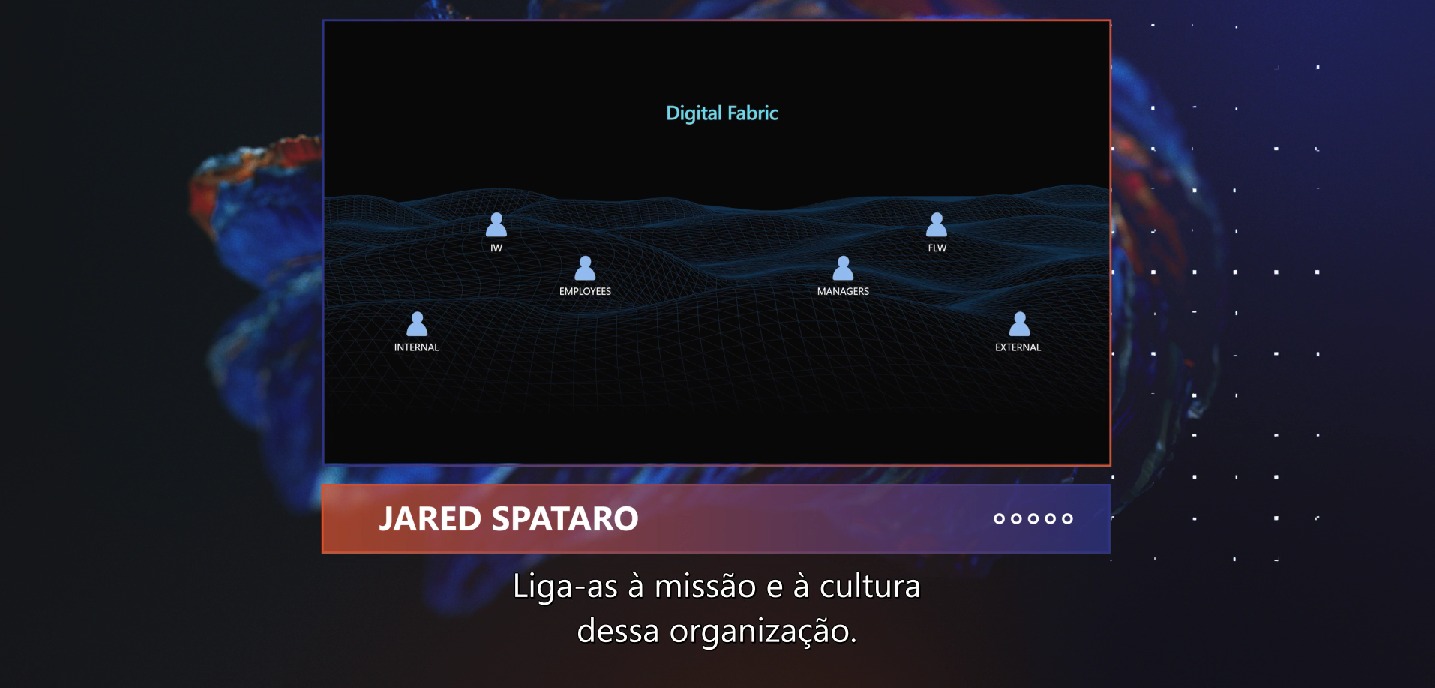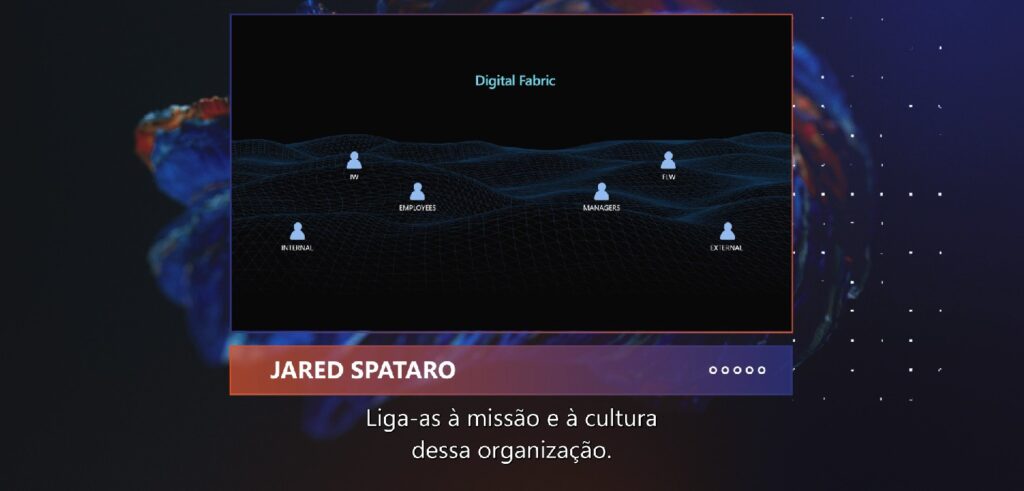 "Because of the complexity of hybrid work, we are going to need not just a plan to get back into the office, but a plan for a brand new operating model, a new way of thinking about how the organization works together, how it gets the work done", he added.
This is where technology comes in: tools like Microsoft Teams are in the center of this new Digital Fabric and can help both in synchronous and asynchronous models of work.
We can see there are 3 major key points linked by digital tools in this new Operating Model:
People: more than productivity, work will have to be about connections and employee experience. Microsoft intends to provide the best working experience through Teams and has now enhanced it through

Viva

, which has 4 models: Connections, Insights, Learning, and Topics.
Places: the physical experience is no longer the most important aspect of working together. Creating an online environment that allows people to be in the same room and see each other equally is the key focus of Microsoft's Front Row experience, inside Teams. Also, Microsoft Mesh is a new tool that ensures avatars can be customized and can replicate people's subtle moves and gestures based on voice and turn, using AI technology. Microsoft 365 apps can be used in the Mesh universe, such as digital canvas, OneDrive files, and 3D objects.
Processes: Digital Transformation was already on its way to corporate businesses. Now, we must reinvent digital optimization and learn how to better work together, separately.

Microsoft Loop

can help teams think and create new workflows, through its 3 core elements: Workspaces, Pages, and Components.
What does this mean for companies
"Companies that embrace this new Operating Model and will really make it work for them will have a competitive advantage in the marketplace with the talent and all the processes that will make their business running", Jared ended.
This means companies will have to adjust to what workers want, knowing if not they will soon be looking for a new company that provides them with a new work-life balance.
Culture is really in the middle of it all: companies implementing their asynchronous processes and allowing people to work on their own terms while making sure the deliverables are on time and people are still connected, is the real new work challenge.
building the future
conference
microsoft